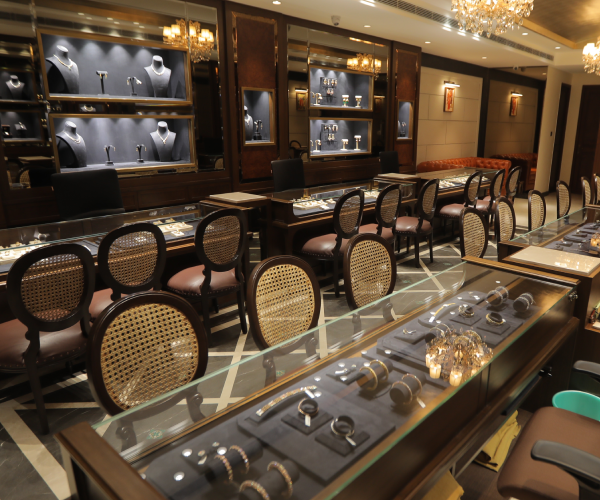 The quest for providing honoured clients a comprehensive, eclectic and elevating experience, FCBL Jewellers has been moving forward with times. Venturing beyond the traditional arenas of gold, diamonds and fine jewellery, which remains their core strength, the brand has also entered and conquered the elite and majestic world of high end diamond studded watches and finely crafted silver object'd art and silver jewellery. In their latest store, FCBL Jewellers promises to provide a superlative and delightful experience to their clients by housing 'all that's precious, wonderful and unique' under one roof.
The Royal City of Ambala attained a new distinction with a new landmark – Fateh Chand Bansi Lal showstopper Luxury Boutique store. The extremely elegant building, located on Nicholson Road in the heart of Ambala Cantt. houses not only the extraordinary gems and Jewellery for which FCBL Jewellers is aptly renowned, but also many other wondrous and precious item & articles. The additions to their jewellery section of over 4000 sqft area has been made the store even more lustrous, wide ranging and exceptional, with something special for everyone.
FCBL Jeweller is a name which is synonymous with the best quality, most splendid designs and finest craftsmanship.
Shri Fateh Chand Ji along with his son Bansi Lal Ji established FCBL Jewellers first showroom at Sarafa Bazaar, Ambala Cantt. in 1904, more than 100 years ago. Since then, the brand has gone from strength to strength. Shri Sultan Singh Ji welded an immaculate work ethic, highest standards of honesty, an unblemished integrity and the unique 'joie de vivre' of his Suryavanshi origins with Ambala's resplendance, royal heritage and vivaciousness to lay down the principles which guide the brand till date.
The finest gems and the purest gold, premier designs and peerless workmanship at affordable prices which was Shri Sultan Singh Ji's mantra continues to be the guiding policy at FCBL Jewellers even today. Every piece of jewellery is a testament to enduring quality and sterling designing. With a highly discerning and loyal clientele , that appreciates and acknowledges the more than a 100 year old legacy of impeccable quality and outstanding beauty, which has become the hallmark of the Jewellery house. FCBL Jewellers today stands proud as successful and dependable brand in the sphere of jewellery.
A dazzling world of stunning masterpieces, that brings in a beautiful amalgamation of the modern and the contemporary aesthetics, is all-set to mesmerise you and leave you spoilt for choice!